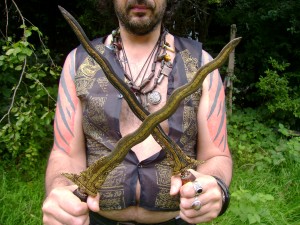 This is a series of powerful initiations into Javanese Ilmu and Al Hikmah magick. They are the same initiations that I give in my Javanese Magick and Advanced Javanese Magick courses which I run as a series of weekend seminars in Devon, UK. In this home study course, I generally give 2 to 3 initiations on the same day during which time you need to be able to meditate in a quiet space as you receive the empowerments. You will also receive written instructions to accompany these potent Javanese Magick initiations.
Occult power is increased in stages; each initiation taking you to a higher level, which means that levels must be taken in order and cannot be skipped. By the end of the course, you will achieve very advanced levels of magick, and will be able to demonstrate occult powers such as magickal self defence including invulnerability to sharp weapons. In addition, you will learn a number of spells and rituals at each level, including love spells, healing, improving business, creating wealth, good luck, charisma, silencing trouble-makers, repelling aggressors, destroying tyrants, exorcism etc.
In the Advanced Javanese Magick Course we still work with basic powers of magickal self defence or invulnerability, power strike, charisma, love etc, but these powers become greater at each level. We also add some other high level spiritual initiations, to take you into oneness with God, and the highest spiritual wisdom.
For details of the levels and initiations, please see:
Javanese Magick Course
Advanced Javanese Magick Course
For further information, please see my articles on Javanese Magick.
Cost: £150 per level