At the core of Ultimate Healing Part 2 with Upgraded Body Electronics Online is a series of live webinars via zoom where you will be guided to hold space, facilitate healing, and do point holding on yourself as well as others. You will have access to detailed charts of the points on the body, iridology charts and instructions, mp3s of mantras and receive a series of high level attunements and transmissions including all the higher candali empowerments, tachyon, shree yantra, etheric crystals, magickal transmutation orb, crystal palace of love, enemy burning fire, and more throughout the course.
The prerequisite for this course is the Ultimate Healing Part 1 – Self Healing online course or previous participation in an in-person Body Electronics Intensive.
This course is an adaptation of the In-person Ultimate Healing Part 2 Body Electronics Intensive which will be available again when circumstances allow.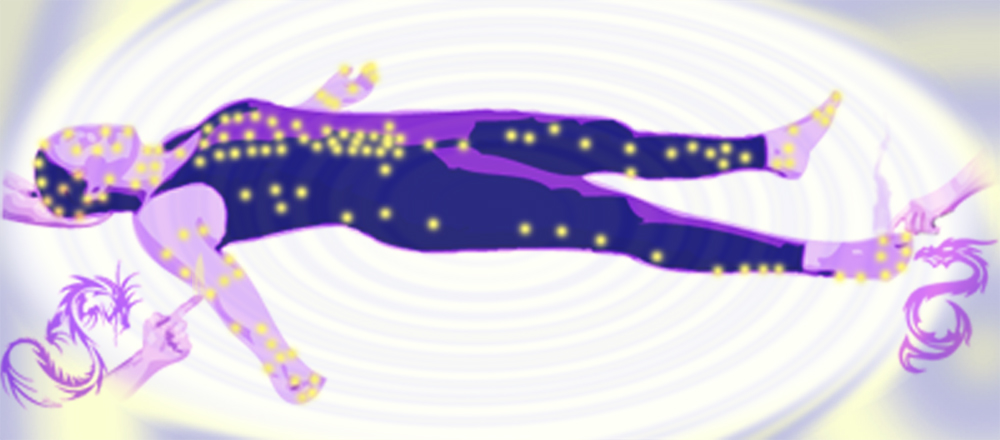 Part 2 Structure:
Your personal review of the manual
Session 1 – How to facilitate the Appreciation Process to assist healing
Session 2 – Locating the Points
Session 3- Holding Your Own Points
Session 4 – Holding Someone Else's Points (or your own)
Session 5 – Holding Someone Else's Points (or your own)
Session 6 – Integration and Aftercare
Attunements will be given throughout
Sessions 1, 2 and 6 are held as Zoom meetings and are recorded. Sessions 3, 4 and 5 have only the first part recorded and ideally need to be attended live. Orbs will be attached to the recording so you still get the magickal transmissions even if you are unable to attend live.
What you Will Experience:
• How to assist someone through a healing session
• How to find what points to press on yourself and others
• 3 fully guided point holding sessions – one for you and two where you will hold someone else's (this can be anyone or you can hold your own points again).
• Practical application of the meditations and theory shared in Part 1
• Upgraded consciousness, protection & healing as you receive all of the attunements and Candali
The Manual:
This contains information on the following
• Info on all the attunements you will receive
• Iridology info and diagrams
• Detailed diagrams for all Body Electronic Points
• Healing the Spine
• Healing the Cranium
• Healing Others
• Aftercare & Integration
The Attunements:
Throughout the modified course you will receive 17 magickal attunements plus another 7 levels of Candali.
Virus Inhibitor Field – upgrades your immune system
8 levels of Tachyon – so you can tachyonize large geographical areas & counteract 5G
Universal Sovereignty – facilitates casting off manipulation and mind control
Magickal Transmutation Crystal Orb – ability to create etheric crystals to transmute all negative energy
Titanium Flame – to burn through titanium implants
Etheric Crystal Creation – creates crystal in etheric plane for use in physical
Antadana Astra – quickens and eases the process of dis-creation
Divine Blueprint – to help your health return to its blueprint
Silver Shree Yantra – helps restructure the body by shifting awareness beyond the physical illusion
Clearing the 7 Veils – clears the 7 veils to perception
13 Crystal Skulls – helps amplify your wishes and bring in spiritual powers
Higher Self Connection Disc – to strengthen your connection
Chintamani – the Wish-fulfilling Gem – helps you create your desires as co-creator with the Divine
Crystal Palace of Love – surrounds your aura & keeps you growing on the path of love
Enemy Burning Fire – to keep them at bay
Kahuna Empowerment – builds your energy body into that of an initiated Kahuna
Fey Kepap – gives positive belief in oneself and one's abilities
Pre Requisites:
To start Part 2 you must have completed the Candali Level 2 Initiation, as a minimum. You must have completed all of Part 1 before you can go into self point holding.
Cost:
£700 includes:
🎆 Manual with full diagrams and support
🎆 17 life-changing Magickal Attunements
🎆 Candali levels 3 – 9
🎆 Appreciation webinar
🎆 How to find locations of the points webinar
🎆 3 fully guided point holding sessions
🎆 Integration & Aftercare webinar
🎆 Continued support from Peter in the Mewe group
🎆 Additional support as and when we identify the need
FAQs
What happens if I need to miss a live point holding webinar?
You are highly recommended to join these sessions live as you will be able to request Peter's direct help during your session – e.g. to ensure you have found the correct points to hold and to help you through any challenges during your session. However, if you need to miss a live session, you can watch the recording which will have activation orbs added to help get the healing going. You can also contact Peter beforehand if you need any additional clarification on which points to use for your particular issue.
What happens at the end of the course?
Each guided point holding session will be recorded and sent out with orbs attached. These recordings can be used any time you wish to do your own sessions and the orbs will activate and accelerate the healing process. This means you can continue working on your own points and/or working on someone else's points. You can continue to ask Peter for guidance via the course portal or in the MeWe group.
Because the Point Holding can go on for hours, what do people do if they need the toilet, or feel thirsty whether the person doing the holding or the patient?
You can go to the toilet, sometimes this is actually supporting your healing process. Etheric crystals can be put on the points to ensure the process continues whilst you are gone. Also, notice your reaction to needing to disrupt the session and go to the toilet, is this something that needs to be looked at? Every trigger that we are given is perfect and is meant to happen.
I'm concerned about how far a healing crisis may go? I've had healing crises that absolutely floor me for weeks, and I wonder if point holding adapts naturally to the overall constitution of the patient and what they can cope with or whether it can cause a crisis that is overwhelming and therefore detrimental?
You will be taking minerals and enzymes to help the healing crisis complete quickly. Although the potential is there for them to be intense, the process is graceful and quick due to the nature of your diet, the Candali and the power of the group.
Is there a payment plan?
Yes, if it makes it easier for you, you can pay in 3 monthly instalments at a slightly higher total cost.
Feedback from previous participants
"Point holding was a moving experience; emotionally, spiritually and physically. I made a life-long friend in my Welsh point holding partner. We have supported each other throughout the experience and continue to do so. Peter was a strong guiding force, and yet again, opened my eyes to other healing ways. Carrie was an honest and grounded energy which helped me to accept my flaws -as a saw her doing. The whole experience set me on my path to deeper healing and self-discovery! Thank you." Nicola, UK
"Having done many in-person Body Electronics Intensives with Peter, I was a bit dubious about how well these sessions would translate online. However, having joined a guided session working on my own points (gall bladder), I was astounded how powerful the process was and it was great to just open my mouth and ask for Peter's guidance at the moment I most needed it – I got some real clarity on my issues." S.P. , UK
Cost: £700
Full payment:
Payment plan option:
A monthly payment plan is also possible (3 monthly payments of £240 totalling £720):
Price for Previous Participants
Discount for those who have previously participated in a live Body Electronics Intensive or previous participants of Ultimate Healing Part 2 with Upgraded Body Electronics (online or in person): £300
Payment plan option:
A monthly payment plan is also possible (3 monthly payments of £105 totalling £315):
2022 Dates
9 July Appreciation Webinar 2pm UK time
13 August How to find the points webinar 2pm UK time
10 September Holding Your Own Points Session*
8 October Holding Someone's Points (or your own) session – Part 1*
12 November Holding Someone's Points (or your own) session – Part 2*
26 November Integration & Aftercare Webinar 2pm UK time
*Start time to be decided once we know the geographical spread of students – likely to be earlier than 2pm UK. Allow 2-4 hours for sessions.
Please contact Peter if you have any queries.
Monthly Online Point Holding
See my new online point holding monthly membership or single session options below.