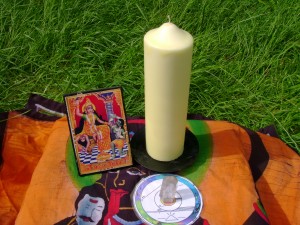 Crystal and Candle Magic Kits are very easy to use. Just light a candle and hold the crystal while making a quick prayer, then leave the crystal with the burning candle. So long as the candle burns, it will be sending out a powerful positive program. You will receive a crystal charged to use with any candle.
I can also make a custom kit to suit most needs. I work mostly with Vedic chants, but can also use Islamic djinn (genie) and khodam prayers. Please Contact me if you would like to discuss a custom kit.
Read my article on Crystal Magick for how human and crystal consciousness work together; the graces of crystals; connecting with a crystal; charging a crystal and how to put your crystal's powers on autopilot.