QUICK LINKS
Public Live Q&A Calls (usually first Saturday of the month):
Magick Students Private Q&A Calls (usually first Sunday of the month):
More details:
I will periodically offer FREE live calls (usually once a month) which will generally consist of some teaching, offering an empowerment or special offer on a course and an opportunity for questions and answers. These calls will be on Zoom or occasionally on Facebook Live.
These calls will be listed on my calendar and as Events on my Facebook Page. They will also be announced in my newsletter so please sign up here if you're not already on my mailing list.
Some calls will be open to everyone to attend and others will be only for those who have purchased paid courses on my Aziz Shamanism Online School. Links to access the open calls will be on my calendar and on the Facebook event.
Replays to Public Q&A calls and live call access links are available by signing up to my free Public Questions & Answers with Peter course on my Teachable School.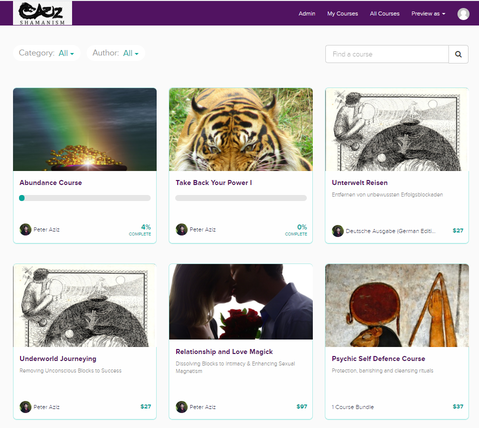 Magick Students Q&A Calls for Students on my Aziz Shamanism Online School
In order to receive access details and be able to watch replays of these private calls, you will need to first subscribe free to my Magick Students Questions and Answers with Peter course. To do this, you will need to access the Join Private Live Q&A Calls & Access Replays lesson in the Opening section of any of your paid courses, complete the short questionnaire and use the coupon on the thank you page to gain free access – you need do this once only.
Once subscribed to the Magick Students Q&A course, you will receive an email giving you the access details for each Zoom call. The access link and the replay of the live call will also be in the Magick Students Questions and Answers with Peter course.
Students from all paid courses will join the same Q&A sessions. If you are unable to join the call live you can submit your question beforehand on the link in the Questions and Answers module.
Facebook Live Calls
Join these live by going to the Video section on my Facebook page. You will need to be a Facebook user to join. During the live transmission you can ask questions and make comments by typing in the comment box. You can also share emoticons.
If you can't make the call live, you can ask questions beforehand by typing them into the comments under the Facebook Event and I will answer them live if there is time. You can then watch the replay in the Videos section.
Zoom Calls
Zoom calls can be joined from a desktop, laptop (PC or Mac) and for tablets and smartphones (Android & iOS). They can also be joined by calling in by phone if you don't have an internet connection.
If you haven't used Zoom before you will need to download the Zoom app. It's very simple but good to do well before your first Zoom call. Simple instructions and the ability to join a test call are shown here and in the video below.
Controls in a Zoom Meeting
Participants joining live will have the ability to mute and unmute their microphone and turn their webcam on and off (if they have one). Please keep yourself muted unless you request and are invited to speak – otherwise background noise will be disturbing. You can choose to keep your camera off if you wish and to avoid your face being seen live and on the replay. You can also choose to submit any questions via the Chat box.
If you wish to be completely anonymous, it's a bit tricky but still possible.*
See further instructions here and video below.

It's all very easy once you've done it once! If you have any problems or questions please email me here.
N.B. I will not be able to answer technical questions during the live calls.
*Further notes on anonymity
Your video:
Keep you camera turned off
Your picture:
With your video turned off, the thumnail image of you shown on the screen (generally in the top gallery of participants) will show your name, or if you have a Zoom account with an image uploaded , will show the image – normally a portrait picture of you. So if you have a Zoom account, it might be better to set up a second account that you can use as an alias – e.g. with no image and a different name.
Your name:
If you don't have a Zoom account or you haven't uploaded an image to your account, your thumbnail will show your name. To change your name to an alias, join the Zoom chat room early when there are fewer people there to see you – Peter plans to open the chat room 10 minutes before the official start of the call. Click on 'Participants' in the bottom area of your screen, hover over your name , select the 'More' option and then 'Rename'. Add your alias. You can choose to keep this alias for future calls.
Live Call Participant Testimonials
"As soon as I start listening to Peter during the Q&A calls I feel fixities that have built up in my mind begin to dissolve: Space is brought in, Possibility, I feel more centred, plus inspired; his insights are amazing and he is so generous in sharing his knowledge of working with the subtle." Veronica R, 69, Retired, England