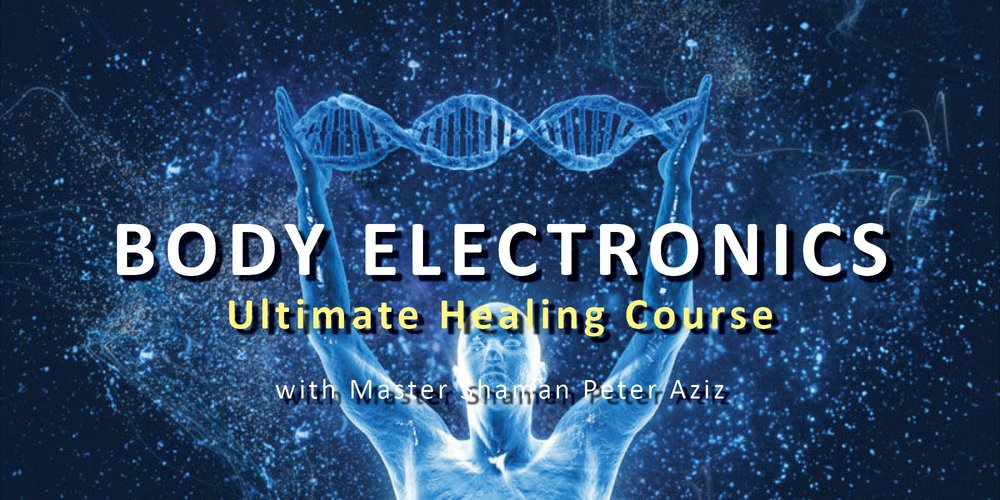 2021 – Dates tba
For the fourth year running, I will be offering my Ultimate Healing Course in Thong Sala, Koh Phangan, Thailand.
Ultimate Healing Part 1
Please note that my online course Ultimate Healing Part 1 – Self-Healing is a pre-requisite for first time participants of the first week of my Ultimate Healing Part 2 In-Person Body Electronics Intensive. This year I am offering the option of students attending Part 1 live in Koh Phangan  2 lots of 2 days  (4 days in total) – you will also have access to the online course.
Cost: US$397 (discount coupon available when booking) or 12,000 Bhat. If you have participated in Week 1 or more of one of my previous Ultimate Healing Intensives, Part 1 is not a requirement but if you would like to do it to access the detailed manual, audio mediations, live video replays and online community and to prepare yourself for Part 2,  it costs US$197 or 6,000 Bhat.
Ultimate Healing Part 2
You can book for just the first week and decide later if you'd like to continue (most people do!) or save money and book the 3 weeks together.
Glands: 6 days dates tba, 2021

Spine: 6 days dates tba, 2021 (Glands is a prerequisite)
Cranium:  6 days dates tba, 2021  (Glands & Spine are prerequisites)
Venue: Thong Sala, Koh Phangan, Thailand
Cost £350 per week – not including food and accommodation
Book all 3 weeks together for £950 and save £100
If you bring a friend with you (who has not worked with me before) you can get a single discount of £50, which will be refunded to you at the start of the course.
For course content inquiries please Contact Me.
Payment
For bookings and payment, accommodation and transport inquiries please contact peteraziz.ultimatehealing@gmail.com
N.B. I will be offering an Advanced Pointholding : Manifestation Centre course on 5days dates tba, 2021 at the same venue in Koh Phangan, followed by a Dragon Magick workshop on 2 days dates tba, 2021, an  Advanced Dragon Magick workshop on 2 days dates tba and finally Vodou Initiation on 3 days dates tba, 2021.  You are welcome to book any or all of these courses using the links above. Koh Phangan is a wonderful island to spend a few extra days integrating after the courses should you have time.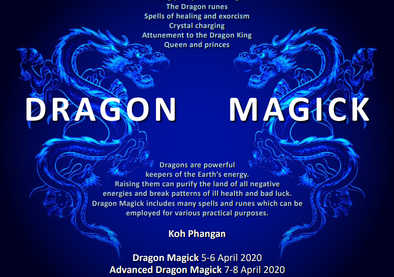 See Flyer:
Ultimate Healing Intensive and Dragon Magick
The main healing modality used in the Intensive is Body Electronics originating from the Kahuna shaman of Hawaii. Theta Healing, the Sedona Technique, Javanese and other magickal empowerments are also included in the process.
For the second time in Thailand, I will be adding my 8-level Tachyon Attunement at no extra charge (normal cost is £220). I added level 8 in response to the threat from 5G which is currently being rolled out around the world and in space. Read my article Protection from 5G and other Modern Threats to Health To protect you from 5G, you would tachyonise your home to level 8. This neutralises all harmful effects of EMF.
Other additions in the last 3 years include:
– The Silver Shree Yantra Empowerment which helps you to release limiting beliefs and tap into your intuitive powers – something which is particularly important when you are dealing with serious health conditions. It also helps heal ancestral patterns and enhances your ability to manifest what you want in your life.
– Astras (legendary magick missiles) used during the sessions to make the healing even more powerful.
– Dragon energy specifically to help break down the oppressive Christian egregore (collective group consciousness) and general restriction of freedom so prevalent in our culture.
Body Electronics has developed from a study of many modern alternative healing methods, advanced scientific research, and shamanistic and spiritual teachings. It works in harmony with spiritual and natural law, and is based upon the simple concept 'as man thinketh in his heart, so is he'. See here for more on Body Electronics.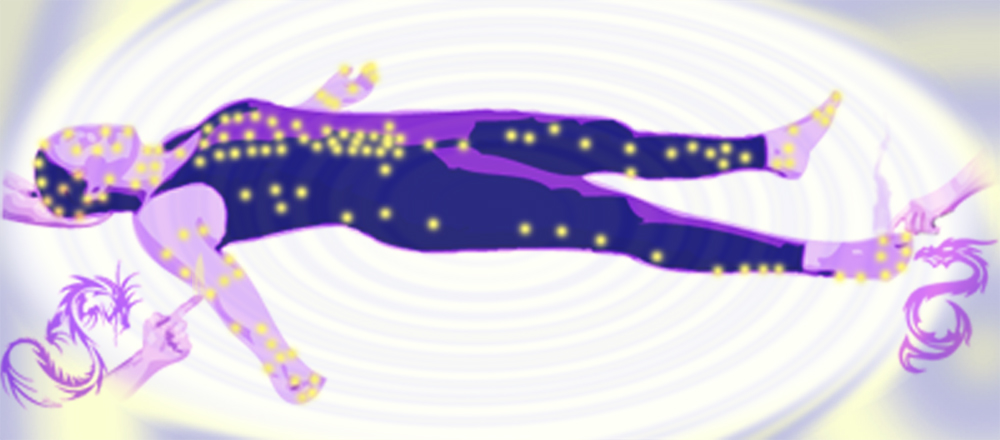 For inquiries and bookings please contact peteraziz.ultimatehealing@gmail.com
The Venue
A secluded jungle location – perfect for this Intensive! The venue is a short drive from Thong Sala, the main town in Koh Phangan.
Transport
The Ultimate Healing Intensive days will start at 10 am each day. The finish time is variable – depending on when your particular session finishes. If you don't have your own transport, there will be a jeep to pick you up at a central location in Thong Sala  at approx 9.45 am each morning and a jeep will return you in the evening (will run several times).
One possible pick up (to be confirmed nearer the time) will be The Canteen restaurant Thong Sala which has great coffee, smoothies  fruit bowls, salads, breakfasts  and kombuchas. The Canteen, Tambon Ko Pha-ngan, Amphoe Ko Pha-ngan, Chang Wat Surat Thani 84280 ….. Basically when you come from the ferries in Thong Sala onto the main street, turn right and walk down to the beach and it's just before the corner. Also find on Facebook or Trip Advisor.
If you prefer, you can hire an automatic scooter for 200 Thai Bhat per day ($6). The venue is  a short ride from Thong Sala.
Food
You are encouraged to follow a mostly raw diet throughout (and ideally for 1 month preceding) the Intensive and to take additional supplements. The Raw diet can be hard to follow especially if you are travelling so as a guideline try to eat more fruits and have some raw food with every meal . Enzyme supplements can also be taken with meals before and during the course.  Lunch will be catered for at additional cost for those who require it. See Peter's information on why the enzymes are so important or contact peteraziz.ultimatehealing@gmail.com with questions.
There will be Kombucha and kefirs available at the venue.
Recommended Supplements:
Enzymes: tba
Minerals: You can use any multimineral, preferably in colloidal form. I use Enzymes International Co-enzyme minerals in quart bottles i.e. liquid form (1 quart = 32 fl oz = 946 ml) – these are US wholesalers so may not be easy to obtain. Another alternative which I use is Buried Treasure Liquid Nutrients which can be purchased easily. Minerals can also be found in capsule form from Ebay. There will be some available of each here.
N.B. Please purchase your own enzymes and minerals as suggested above before attending Part 2 of the course.
It is good to take more superfoods together with a few minerals and enzymes during your healings. See Peter's blog on nutrients for healing.
Contact peteraziz.ultimatehealing@gmail.com if you need help with nutrients.
Additional practical information
This information was correct as at 2019/2020 so you will need to research for yourself closer to the dates of the course for up-to-date information.
Contact peteraziz.ultimatehealing@gmail.com for further help.
Getting there:
Flights to Koh Samui – check Skyscanner http://www.skyscanner.net/
Some representative return flight prices as at 10.1.19:
London – £650
Sydney – £470
Bali – £475
Mumbai – £475
Tokyo – £450
Taipei – £500
40 mins by ferry from Koh Samui to Koh Phangan
Visa: 1 month on entry – can be extended for 1 extra month with morning trip to Koh Samui which can be organised, returning at midday. Best if staying for other courses or some time before course and after is to take 2 month or more visa from Thai Embassy in your country well before arrival.
For travel information (also within Thailand) see Phangan.info  
Accommodation
Prices for rooms in Thong Sala start from 300 Thai Baht ($9).
As you are probably coming for the full course or this and Peter's other courses it is best to book accommodation by the month. This will provide a big discount over prices seen on the internet sites and will have to be agreed by contacting the guesthouse directly. There are also private houses available for rent nearby which are very reasonable for all budgets and levels of accommodation. If you need help, contact Rangi with your dates especially if you will be without transport.
One good option is Siam Healing Centre – she will do rooms for a month for 15000 bhat with kitchen.
For more luxury, search for Thong Sala, Thailand on booking.com and hotels.com
You might also want to look for a private arrangement on the Koh Phangan Conscious Community Facebook Group. Or 'Koh Phangan People –  Rent a house' Facebook group.
General
For Thong Sala info see phangan.info.