For the third year running, I will be offering my Ultimate Healing Intensive in Thong Sala, Koh Phangan, Thailand hosted by my by long-time friend and student Steve/Rangi.
N.B. I will be offering a Dragon Magick workshop on 7-8 April, 2019 at the same venue in Koh Phangan, followed by Vodou Initiation on 10-11 April, 2019.You are welcome to book either or both of these courses using the links above.
The main healing modality used in the Intensive is Body Electronics originating from the Kahuna shaman of Hawaii. Theta Healing, the Sedona Technique, Javanese and other magickal empowerments are also included in the process.
Body Electronics has developed from a study of many modern alternative healing methods, advanced scientific research, and shamanistic and spiritual teachings. It works in harmony with spiritual and natural law, and is based upon the simple concept 'as man thinketh in his heart, so is he'. See here for more on Body Electronics.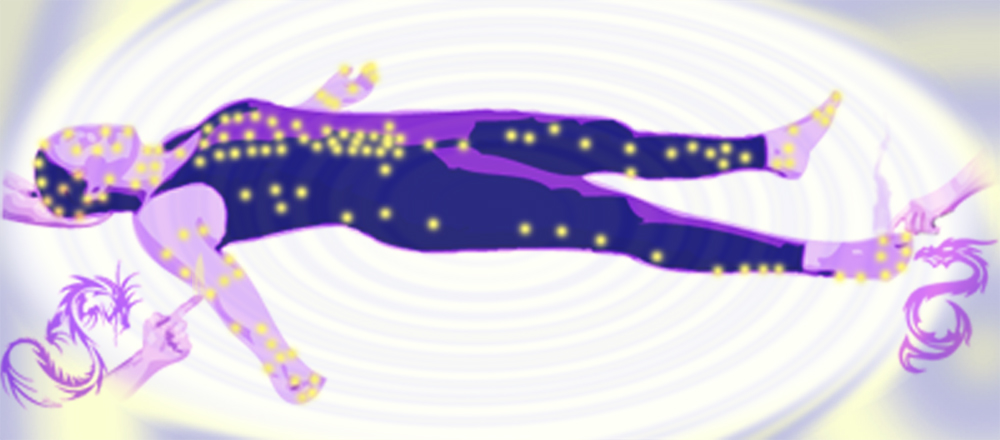 For inquiries and bookings please contact Steve/Rangi at rejoicer@hotmail.co.uk
The Venue
A secluded jungle retreat – perfect for this Intensive! The nearest landmark is the Wat Samai Kongka temple about 5 minutes walk away through the jungle. Find the temple on Google maps here. Email Rangi for directions or for details of the pick up point in Srithanu.
Transport
The Ultimate Healing Intensive days will start at 10 am each day. The finish time is variable – depending on when your particular session finishes. If you don't have your own transport, there will be a jeep to pick you up at a central location in Srithanu at 9.45 am each morning and a jeep will return you in the evening (will run several times).
If you prefer, you can hire an automatic scooter for 200 Thai Bhat per day ($6). The venue is 10 minutes by scooter from  Srithanu or 10 minutes from Thong Sala.
Food
You are encouraged to follow a raw diet throughout (and ideally for 1 month preceding) the Intensive and to take additional supplements – contact Steve for more info about his superfoods. You will need to bring your own food to the venue.
Recommended Supplements:
Enzymes: I recommend NOW Plant Food Enzymes (UK) (or buy from US).
Minerals: You can use any multimineral, preferably in colloidal form. I use Enzymes International Co-enzyme minerals in quart bottles i.e. liquid form (1 quart = 32 fl oz = 946 ml) – these are US wholesalers so may not be easy to obtain. Another alternative which I use is Buried Treasure Liquid Nutrients which can be purchased easily.
Payment
You can book for just the first week and decide later if you'd like to do the second week (most people do!) or save money and book the 2 weeks together. Tuition costs to be paid to me using the buttons below or bring cash (preferably £ sterling).
Body Electronics Intensive: 17-22 March, 2019

Spine: 24-29 March, 2019
Cranial Intensive:  31 March – 5 April, 2019  (Body Electronics Intensive is a prerequisite)
Venue: Srithanu, Koh Phangan, Thailand
Cost £300 per week – not including food and accommodation
If you bring a friend with you (who has not worked with me before) you can get a single discount of £50, which will be refunded to you at the start of the course.
Pay now: £300
All 3 Courses: £800
Book all 3 weeks together and save £100
Below is some additional practical information.
Getting there:
Flights to Koh Samui – check Skyscanner http://www.skyscanner.net/
Some reprentative return flight prices as at 10.1.17:
London – £500
Sydney – £570
Bali – £475
Mumbai – £475
Tokyo – £450
Taipei – £500
40 mins by ferry from Koh Samui to Koh Phangan
Visa: 1 month on entry – please double check
For travel information (also within Thailand) see Phangan.info
Accommodation
Prices for rooms in Srithanu range from 300 Thai Baht ($9)
Check out some budget venues here. Or some slightly more expensive options here.
For more luxury, search for Srithanu, Thailand on booking.com and hotels.com
You might also want to look for a private arrangement on the Koh Phangan Conscious Community Facebook Group.
General
See Guide to Srithanu and West Koh Phangan
An excerpt from the guide:
"The main reason people are drawn to Srithanu and the surrounding area is the atmosphere. It is not dominated by loud music or party-goers using chemicals to stay up for 24 hours at a time. It is a more gentle crowd looking for yoga, tai-chi, Pilates, regeneration, detox programmes, organic food and a friendly chilled atmosphere."