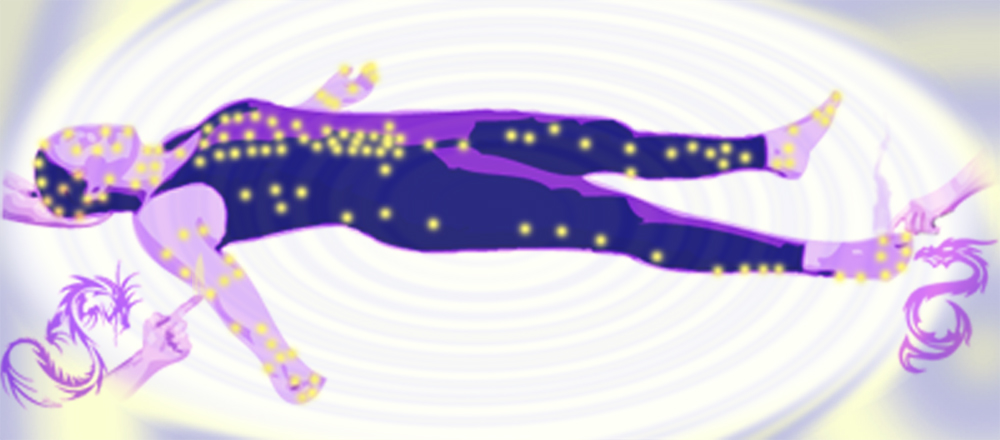 This is a very complete and in depth healing course, which has all the material of the previous Ultimate Healing Body Electronics Intensive (now known as Ultimate Healing Part 2), except for the point holding.
There are 8 modules, containing a number of guided meditations on mp3 audio files. You will be guided to welcome and release emotions, take back power, release shame, mature ego, embrace shadow, master the art of creating everything you want, as well as dis-creating everything you don't want. The course also includes two levels of Candali – a safe form of kundalini yoga which produces the heat needed for transformation. Your journey through the modules will be supported with an online, live webinar series where some of the information will be covered in more detail and you will be given the opportunity to ask any questions that you might have related to the content you have completed.
This is a stand alone course and can be completed with or without continuing on to the In-Person Body Electronics Intensive which forms Part 2 of the Ultimate Healing Course. Please note, however, that this course (Part 1) is a prerequisite for Part 2, It's called the Ultimate Healing Course because it can give you complete mastery on all levels. Totally heal and regenerate the body, change the most impossible situations, and manifest your dreams.
There are many reasons for participating in this course. Some people take it to improve the healing they give to others, some to heal themselves of difficult ailments, some to accelerate their spiritual development, and others because they need a positive change in their lives.
Body Electronics is a powerful method of sustained point holding, developed by Dr John Whitman Ray, largely influenced by Kahuna (Hawaiian shamanism) teaching. It is used to access memories stored in the body at the genetic level, and by releasing emotion and stored trauma, leads to the healing and regeneration of the body as well as inner transformation. The methods are based on a thorough scientific understanding of how thoughts and emotions are stored in the body, and how they affect our health and development.
In this home study section, we do everything except the point holding. You will learn to heal yourself very deeply, remove all kinds of emotional blocks, manifest your desires, dis-create situations you don't want, and generally master your life. This is essential ground work before attending the in-person courses.
In Part 1 we look at:
How emotions affect your health
Releasing emotional blocks
Taking back lost power
Levels of healing
Dis-creation
Releasing past choices
Nutrition & healing crisis
Manifestation & future causality
Mastering ego & shadow
Healing physical ailments
Overcoming weapons of control & veils of perception
Candali initiations
N.B. Unless you have already participated in at least Week 1 of an in-person Body Electronics Ultimate Healing Intensive with me, Peter, you will need to complete this online course in order to participate in my in-person Body Electronics Intensive.