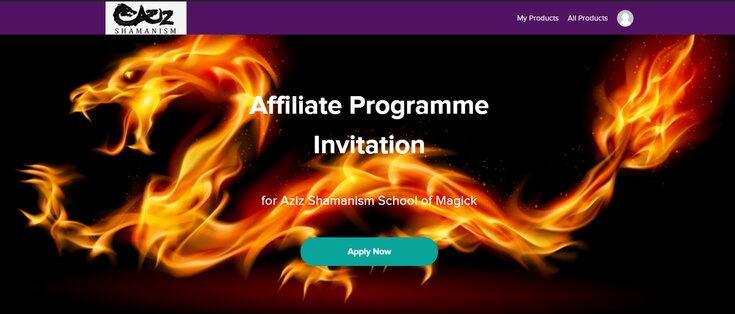 I have an Affiliate Programme for some of the online courses in my Aziz Shamanism School of Magick on the Teachable platform.
I would like to extend an invitation to students in my online school and also to selected partners who wish to recommend and share my work and to earn an affiliate commission.
Benefits Of Joining The Aziz Shamanism School of Magick Affiliate Programme
Commission of 20% paid monthly
Cookie lifetime of 30 days
9 premium courses to promote
Promotional resources including banners and swipe files
Bonus short training course on how to promote my courses effectively as an affiliate
Being an agent of change, healing and magick
Positively impacting the lives of those around you
Helping me to expand the possibilities of what can be healed and to offer it to seekers from all over the world
You can find details of the Affiliate Programme here and also a link to apply to join. There are no arduous requirements to be an affiliate but you will be required to sign and adhere to the programme Terms & Conditions Agreement which may be updated periodically.
Customer reviews/testimonials make a big difference to sales so I'm asking that (unless you have already done so) you first send me a short review to post on the sales page of at least one of the affiliate programme courses which you have taken. You can use my Testimonial Form to send me your reviews/testimonials.
You do not need to have taken the course yourself in order to promote it as an affiliate, but it will help your sales if you have and can share your experience of it.
To make affiliate sales, you can simply send people your affiliate links (given in your affiliate dashboard) which will redirect to the appropriate sales pages on Teachable. Affiliates have access to a free 'Affiliate Training and Resources' course on how to promote successfully as an affiliate even if you have no prior experience and which will include images/banners and sample sales copy to help you promote the courses on your website, to your mailing list and on social media.
Affiliate commissions are tracked, calculated and paid monthly by Teachable in US Dollars to your PayPal account.
If you are interested in becoming my affiliate, please check out the programme by clicking the button below.
Any questions, please contact me at azizshamanism@gmail.com